Blue Ocean Robotics Acknowledged with the Robot Product Leadership Award 2020 by Frost & Sullivan for Virus-Killing UVD Robots
"Best Practices Award" Recognizes Blue Ocean Robotics' UVD Robots in Disinfecting Against Viruses like COVID-19 as well as the company's other Service Robots; GoBe Robots and PTR Robots
As the global pandemic drives attention to the role professional service robots play in protecting people from infections, today, Blue Ocean Robotics[1] announced that it has been selected by Frost & Sullivan for its Best Practice ¨2020 European Professional Service Robots Product Leadership" Award – thereby being honored as the leading professional service robotics company in Europe. The recognition was earned primarily based on the company's work with subsidiary UVD Robots[2], which combines autonomous robot technology with ultraviolet light to disinfect against viruses like COVID-19.  
Frost & Sullivan Best Practices Awards recognize companies in a variety of regional and global markets for demonstrating outstanding achievement and superior performance in areas such as leadership, technological innovation, customer service, and strategic product development. Industry analysts compare market participants and measure performance through in-depth interviews, analyses, and extensive secondary research to identify best practices.
"Being recognized by Frost & Sullivan with a ´Best Practice Award´ pays tribute to the heart, passion and drive we dedicate to creating innovation, development and commercial success," said Blue Ocean Robotics CEO Claus Risager. ¨At the same time, we are also very proud to develop robots that not only help solve the world's problems, but are also solid and lucrative investments for our owners from a business perspective.¨
A subsidiary of Blue Ocean Robotics, Denmark-based UVD Robots' innovative solution has been proven to eliminate pathogens within 10-15 minutes in a patient room. The company's self-driving, disinfecting robots have been rolled out to more than 50 countries worldwide, to date, with great success.
"Before we received the UVD robot, six doctors at our hospital in Sardinia had been infected with coronavirus,¨ says Christiano Huscher, chief surgeon at Gruppo Poloclinico Abano, which operates a number of private hospitals in Italy and recently began using UVD robots. ¨Since we started using the robots two months ago to disinfect, we haven't had a single case of COVID-19 among doctors, nurses or patients."
Frost & Sullivan Best Practices Awards are presented each year to companies that are predicted to encourage significant growth in their industries, have identified emerging trends before they became the standard in the marketplace, and have created advanced technologies that will catalyze and transform industries in the near future.
"Blue Ocean Robotics' flagship product, UVD Robots, especially enables hospitals to reduce disease transmission by killing 99.99 percent of bacteria and microorganisms," said Rohit Karthikeyan, Industry Manager with Frost & Sullivan. "It is the first and only autonomous mobile robot that disinfects a variety of surfaces using UV-C light, giving it superior utility over competing solutions. Uniquely, the UVD robot can be easily controlled with a tablet."
The most recent data from the International Federation of Robotics showed an annual 61 percent growth in the number of service robots sold, corresponding to a total sale of 271,000 robots sold in the global market. Despite quite a bit of turbulence in the global market these months, Blue Ocean Robotics expects a strong four-digit percentage growth in total sales in 2020.
About Blue Ocean Robotics
Blue Ocean Robotics[3] develops, produces and sells professional service robots primarily in healthcare, hospitality, construction, and agriculture. The portfolio of robots includes the brands; UVD Robots[4], a mobile robot for disinfection; GoBe Robots[5], a mobile telepresence robot for communication social inclusion and CO2 climate improvements; and PTR Robots[6], a mobile robot for safe patient handling and rehabilitation. Blue Ocean Robotics develops the robots from problem and idea all the way to scale up. Each robot is placed in its own subsidiary-venture company, making Blue Ocean Robotics the world's first Robot Venture Factory.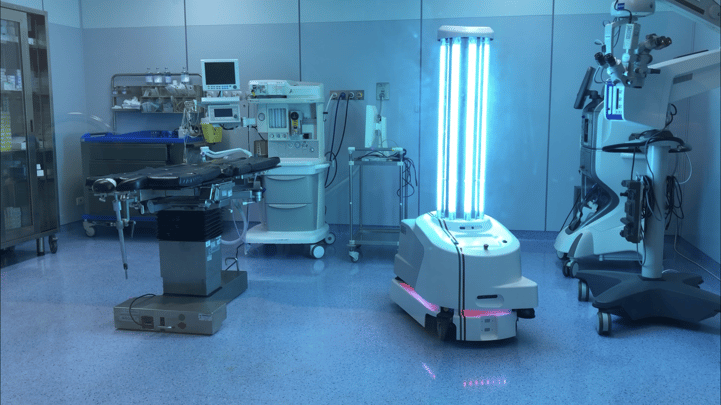 Before UVD Robots, six of the hospital doctors in one Gruppo Poloclinico Abano hospital in Sardinia (above) had been infected with coronavirus. Since using UVD Robots two months ago, no further cases have occurred at this hospital.

Blue Ocean Robotics awards and recognition:

2020
● Blue Ocean Robotics is named "European Champion" in the development and commercialization of service robots for professionals (B2B) by Frost & Sullivan.
● Blue Ocean Robotics wins the European Robot Industry Award, "euRobotics Tech Transfer Award, 2020".
● Blue Ocean Robotics is named "Minicorn" and thus one of the 10 most promising technology companies in Denmark by the international analysis house Tracxn.
● Blue Ocean Robotics awarded with participation in Tech Tour Growth 50, which is a shortlist of Europe's leading super-scale companies in the tech industry.

2019
● Blue Ocean Robotics wins one of the robotics industry's biggest international awards, the IERA Award 2019
● Blue Ocean Robotics is named a "Gazelle" for the third year in a row by leading Danish business paper Børsen
● Blue Ocean Robotics is a finalist in the competition to become Robot Company of the Year in Denmark
● Technology Denmark honors Blue Ocean Robotics for its contribution to the Enterprise Pact to attract and develop talent

2018
● Blue Ocean Robotics is named a "Gazelle" for the second year in a row by leading Danish business paper Børsen

2017
● Nordic Startup Award: CEO and founder of Blue Ocean Robotics, Claus Risager, nominated at the awards ceremony as Founder of the Year
● Blue Ocean Robotics is named a "Gazelle" by leading Danish business paper Børsen

2016
● Blue Ocean Robotics is in the top 3 of the Startup World Award for UVD Robots at the AUTOMATICA Fair in Munich
● Blue Ocean Robotics is included in "20 Most Promising Robotics Solution Providers 2016", prepared by CIO Review 
_______

Contact:

Merima Cikotic, Head of PR & Marketing 
Source URL: Read More
The public content above was dynamically discovered – by graded relevancy to this site's keyword domain name. Such discovery was by systematic attempts to filter for "Creative Commons" re-use licensing and/or by Press Release distributions. "Source URL" states the content's owner and/or publisher. When possible, this site references the content above to generate its value-add, the dynamic sentimental analysis below, which allows us to research global sentiments across a multitude of topics related to this site's specific keyword domain name. Additionally, when possible, this site references the content above to provide on-demand (multilingual) translations and/or to power its "Read Article to Me" feature, which reads the content aloud to visitors. Where applicable, this site also auto-generates a "References" section, which appends the content above by listing all mentioned links. Views expressed in the content above are solely those of the author(s). We do not endorse, offer to sell, promote, recommend, or, otherwise, make any statement about the content above. We reference the content above for your "reading" entertainment purposes only. Review "DMCA & Terms", at the bottom of this site, for terms of your access and use as well as for applicable DMCA take-down request.
Acquire this Domain
You can acquire this site's domain name! We have nurtured its online marketing value by systematically curating this site by the domain's relevant keywords. Explore our content network – you can advertise on each or rent vs. buy the domain. Buy@TLDtraders.com | Skype: TLDtraders | +1 (475) BUY-NAME (289 – 6263). Thousands search by this site's exact keyword domain name! Most are sent here because search engines often love the keyword. This domain can be your 24/7 lead generator! If you own it, you could capture a large amount of online traffic for your niche. Stop wasting money on ads. Instead, buy this domain to gain a long-term marketing asset. If you can't afford to buy then you can rent the domain.
About Us
We are Internet Investors, Developers, and Franchisers – operating a content network of several thousand sites while federating 100+ eCommerce and SaaS startups. With our proprietary "inverted incubation" model, we leverage a portfolio of $100M in valued domains to impact online trends, traffic, and transactions. We use robotic process automation, machine learning, and other proprietary approaches to power our content network. Contact us to learn how we can help you with your online marketing and/or site maintenance.